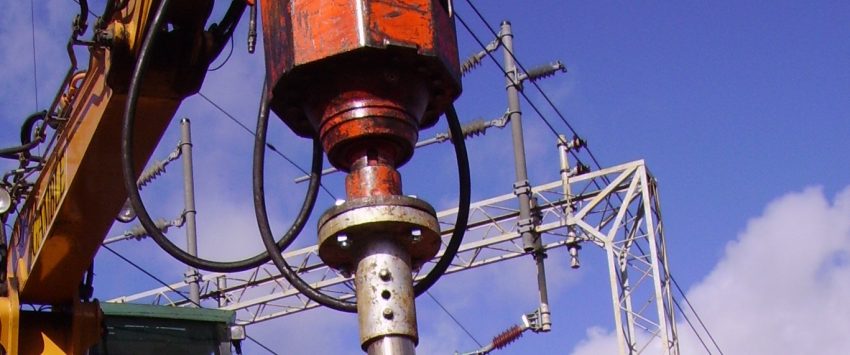 FAQs
What kind of company is ScrewFast?
ScrewFast is the leading provider of turnkey helical foundation solutions. This means that in addition to providing custom engineered designs and independently checked drawings, ScrewFast also custom manufactures helical piles at its four HA, UVDB and NWR (linkup), approved fabrication facilities in the UK. ScrewFast also installs the piles with speed and precision. With over 200 trained subcontracted installers, a diverse fleet of over 50 installation units and more than 80 years (8x10yrs) of cumulative experience in the design, fabrication and installation of helical piles, ScrewFast is the largest and most experienced Screw Pile provider in The UK. ScrewFast has an in-house design team of professional engineers in various disciplines including Chartered Geotechnical, Structural and Mechanical Engineers. ScrewFast runs a unique 24/7 helpline service for instant professional, and fully accountable, problem solving on any site at any time. ScrewFast carries 10million UKP of professional indemnity insurance from Lloyds.
What are ScrewFast piles?
ScrewFast piles are an increasingly popular and remarkably effective deep foundation option. Each ScrewFast is composed of a steel pipe shaft with a special point at the bottom and two or more formed helical plates welded along the shaft at strategic locations.
How do ScrewFast piles work?
Imagine using a power drill to advance a screw into a block of wood. Now imagine using a hammer to drive a nail into that same block of wood. The "thread" or helix on the ScrewFast allows it to be pulled into the ground with impressive speed and accuracy and without the noise and vibrations associated with a percussive driver. The addition of the helix also dramatically increases bearing capacity and pull-out resistance making ScrewFast piles a good option for deep foundations such as transmission towers, as well as lighter load projects such as decks or fences.
Does ScrewFast have much experience in the foundations industry?
ScrewFast is the established helical piling expert in Europe today, and has been invited to submit a paper at the first international conference on Screw Piling to be held in New Zealand in October 2008. The company has been an industry leader for over 10 years. Supported technically by its own strong design and engineering team (see "SCREWFAST DESIGN and ENGINEERING DEPARTMENT"), and also by the highly valued feedback from the installation records of every pile installed to date, throughout the UK and from many other parts of the globe. In addition, ScrewFast is continually expanding its knowledge of helical piles through independent research and testing, monitored by such respected bodies as; Transport Research Laboratory Berkshire-UK (see TRL report), Network Rail, and Highways Agency UK, but also through the shared technology from work done by other respected practitioners of this very old and trustworthy technology, such as Piletech New Zealand, with whom ScrewFast has a technical partnering arrangement. ScrewFast has also had its design methodology scrutinised in a report by Arup's which is published on our website. Arup's are once again updating their report based on information gleaned from additional, more recent, broader experience gained since their last report in 2005.Partnerships with post-secondary institutions including the work of University research students reading Master's degrees at Imperial College-London (Charles Wark), University of Nottingham (Paul Maloloney), University of Surrey (Daryl Coughlan – "ScrewFast piles – Analysis of Design Methods and a Practical Investigation".)Many UK consulting and contractors' engineers have developed new applications for ScrewFast piles, and have expanded the range of conditions that ScrewFast piles can be used in. ScrewFast constantly validates scientific theories with practical field experience.
Are ScrewFast piles safe?
Absolutely. ScrewFast piles are recognized as a safe and effective foundation by Arup's, WSP, Atkins, Mouchel, Mott McDonald, Scott Wilson, Arup's and many other august consulting organisations around the world, for highly safety critical applications such as tall roadside and trackside infrastructure, power station and electrical transmission lines to communication towers and buildings both large and small. Interestingly, ScrewFast has a totally "no failure in service" history. ScrewFast has been insured through Anka Insurance brokers Limited, under Lloyds policies since its inception and has never suffered a claim of any description.ScrewFast is certified under Achilles Link-up certification for work on Network Rail UK and under UVDB for utilities such as water authorities, Electrification and other Energy suppliers. ScrewFast is also approved for work for HA (Highways Agency – UK).
ScrewFast maintains constant vigilance of installations with specific focus on safety and has to date never had any serious injuries to anyone, directly involved with any phase of the manufacture, installation or use of its products.
How important is Quality to ScrewFast?
Quality is a top priority for ScrewFast . The company is ISO 9001-Certified by UKAS, and The meticulous attention to quality ensures that every pile is carefully inspected before it leaves ScrewFast's manufacturing shops. ScrewFast maintains a strong team of in-house engineers with advanced post-secondary training. Welders in ScrewFast's manufacturing facilities are all Certified and undergo a rigorous training program. ScrewFast always ensures that its products meet or exceed all BS and EU standards and any noncompliance is immediately remedied, researched and steps taken to ensure no repeats. Nonconformity to standards occur very infrequently and have been in the main, of a noncritical nature, but whatever the symptom, the cause is defined, recognised and prevented from reoccurrence.
What kind of training does ScrewFast's staff have?
When an ScrewFast installation team arrives on your work site you can rest assured that you'll be dealing with one of the best trained and experienced teams in the industry. ScrewFast's teams carry the recognised tickets commonly required at worksites today. If you would like to find out whether ScrewFast's teams are qualified to work at your site, please contact us. ScrewFast maintains a training school at its works where new installers are trained and experienced installers get refresher courses for new developments from time to time. We keep the records of every trained installer since our inception 10 years ago.
Can ScrewFast install ScrewFast piles anywhere?
Yes. Even frozen soil is not a deterrent for ScrewFast's piles or for its installation teams and equipment. ScrewFast has installed piles in Denmark in the middle of winter under snow and in Scotland during 20 degrees of frost for Scottish Power. They install piles 24 hours a day, seven days a week, 52 weeks a year. ScrewFast runs a 24/7 technical help line for its installers just in case they encounter unfamiliar problems. ScrewFast's installation teams perform cold weather installations on a regular basis and are often asked to install piles in remote areas of northern UK where the sensitive ecosystems and long distances make concrete piles or pile drivers unattractive options.
ScrewFast piling rigs are simple attachments to conventional excavators, thus the availability of rigs is universal and plentiful. One of the biggest advantages being that we can install piles down embankments or on cuttings without piling platforms, without surcharging the embankment or batter. Likewise we can install on the rake above or below grade. Retaining walls and excavations are hardly ever required for ScrewFast foundations along track-sides or road-sides on either embankments or cuttings. ScrewFast has frequently installed over barriers, walls and fences as high as 5m in height. ScrewFast can install in water or over impassable obstructions using long reach excavators standing on more accessible ground.
What differentiates ScrewFast piles from other foundation options?
ScrewFast piles are the fastest, most flexible and environmentally-friendly foundation options available. Installing a ScrewFast pile doesn't require any pre-excavation and there is no need to dispose of spoil. There is no time-consuming wait for concrete to cure and there are no noisy pile drivers or cumbersome cement trucks to deal with. View an installation or see what our clients think about ScrewFast piles. A CD is freely available from info@screwfast.com which graphically illustrates this amazingly simple and effective technology.
Some of the other differences between ScrewFast piles and other foundation options are summarized in the table which follows:
Benefit
Screw
Piles
Concrete
Piles
Driven
Piles
No Curing Time
X
X
No Pre-Excavating
X
Site Verified Loading
X
Environmentally Friendly
X
Removable
X
X
Re-usable
X
Vibration/Noise Free
X
All Weather Installation
X
X
To what depths can ScrewFast's ScrewFast piles be installed?
We have installed piles to 20m but ScrewFast's engineers can typically optimize the design to ensure that such depths are seldom necessary. Our average depth is about 7.0m taken over many thousands of piles in all sorts of terrains, countrywide, and in other places such as Denmark, Dubai, Namibia, South Africa, Germany and Spain.
What industries does ScrewFast work with?
When ScrewFast was first conceived in 1998, it primarily focussed on the communications industry, providing foundations for masts up to 50m in height. Over the last decade, the applications for ScrewFast foundations have multiplied, and ScrewFast has expanded its service offerings to meet the growing demand. Today the company works extensively with the Transport industry, Power transmission, Telecommunications, Municipalities and the Renewable energy industry
Some of the other common ScrewFast foundation applications include:
Telecommunication towers
Wind turbines
Solar PV power installations of up to 8MW.
Power transmission and substation structures
Pipeline supports and buoyancy control
Street light bases
School portables
Industrial work camps (portable and permanent)
Guy anchors, tie-backs and wall anchors
Commercial and residential structures
Underpinning
Permanent or temporary and reusable wall anchors
Highway sign bases
Slope stabilization
Manufactured homes
Boardwalks and wetland bridges
Boat moorings and jetties
Flood defence barriers
Conveyor belt structures
Urban tramways
Fence posts, flag posts, solariums and deck or patio footings
Bridge supports
Railway infrastructure
Retaining walls.
I need a mix of ScrewFast piles and concrete piles on this job and I'd prefer to use a single vendor. Do you handle other types of foundations?
We're best known for our skill and experience with ScrewFast helical piles but ScrewFast is truly a one-stop shop. We can assist our customers with virtually any foundation need, including concrete foundations.
The project I'm working on involves rocky terrain. Are ScrewFast piles even an option?
Yes. Our engineering expertise, top-notch equipment and years of experience ensure that we can install our piles under almost any conditions. Our installation fleet includes a specialized air drill/hammer that allows us to install ScrewFast piles and other of our unique piles in rocky terrain or solid rock and even through reinforced concrete. ScrewFast projects in solid rock can be seen on the website of our subsidiary company SolarFast.SL, a renewable energy specialist in Europe. See www.solarfast.eu. For further information.
Are there any other vendors of this technology in the UK?
Yes and No. There are a number of vendors who tend to concentrate at the smaller end of helical piling technology, doing house underpinning and small communication masts. And there are others who have tacked Screw piling onto other activities such as mast building, but ScrewFast was the company which reawakened this technology in the UK, the land of its birth in 1846, and it was ScrewFast which invented new and important aspects of helical pile technology, such as helical rock piles and big helical piles for wind turbines and big Highways signal structures, new ways to connect helical piles to other structures, and better ways to install and check the integrity of Screw Piles. ScrewFast pushed Screw Piling boundaries way beyond anything that had ever been done before Worldwide.
Many have tried to copy us, but no other Helical pile company in the UK can boast its own permanent R&D department deploying a 34 tonne excavator with electronic torque monitoring equipment for checking installation torque values against pile tests. ScrewFast is unique in having and over 50 pile driving torsion heads, including one which can install helical piles with a safe bearing capacity of up to 2000kN.
Attempts to copy us have occurred many times over the years, but none appear to have the essential combination of skills, experience, equipment, and most importantly, a focussed commitment to produce ever better, more robust and more durable solutions.
Some other vendors have encountered a few problems due to lack of adequate equipment or expertise or both, and in such instances ScrewFast has occasionally been called in by distressed clients, to fix or consult on botched jobs. (Interalia: Safety Critical Work at an International Airport in England, botched signal foundations on an important stretch of Rail track, and various communication masts and sundry civils works).
Problems are bound to arise when there is a lack of sound geotechnical knowledge to support the installation operation. Equally essential is a profound and clear understanding of the local design criteria for different ground conditions. There are many occasions where helical piles will not penetrate some soils unless certain adaptations are made, such as the addition of rock cutting teeth and profiled leading edges. There are many variations which the designer needs to be familiar with to be able to reliably engage the wide variety of soils so often encountered. These design peculiarities have to be predicted and the piles must be manufactured to suit the expected conditions.
Does ScrewFast always install its own piles?
No, ScrewFast piles are always installed by trained installers and until they have been proved competent ScrewFast technicians are on hand to monitor their performance. On very few occasions, ScrewFast does conduct installations, but it is more usual for ScrewFast to employ companies which have trained certificated installers.
Some of ScrewFast's customers install their own piles for a wide variety of applications using their own trained installers. Generally, trained certificated installers prove to be very competent and reliable since they are normally handpicked by their employers for this activity before being sent for training, but if any doubts exist, ScrewFast insists on some initial monitoring until the ScrewFast monitor has endorsed the competence of the individuals concerned.
ScrewFast also has an alliance with Terrawise, a foundation specialist with an excellent reputation earned over many years on Rail and Highways. Terrawise has some of ScrewFast's earliest trained installers in its teams who were trained by ScrewFast nearly 10 years ago, on Railway works.
Together ScrewFast and Terrawise have built up an enviable business by installing ScrewFast piles on some of the most safety critical projects around the country. Jointly they have gained a long list of satisfied customers.
Between Terrawise and ScrewFast there is an accumulation of knowledge and experience which is very difficult to equal.
Turnkey projects may be led by either ScrewFast or Terrawise.
Both companies enjoy a strong affinity for similar work ethics, a "can do" attitude and genuinely going the extra mile.